Aneng PT1028 22 Piece Universal Silicone Multimeter Cable & Probe Set – Review
It is time to replace your old and rudimentary multimeter probes with this highly flexible and high-quality modular multimeter cable and probe set from Aneng.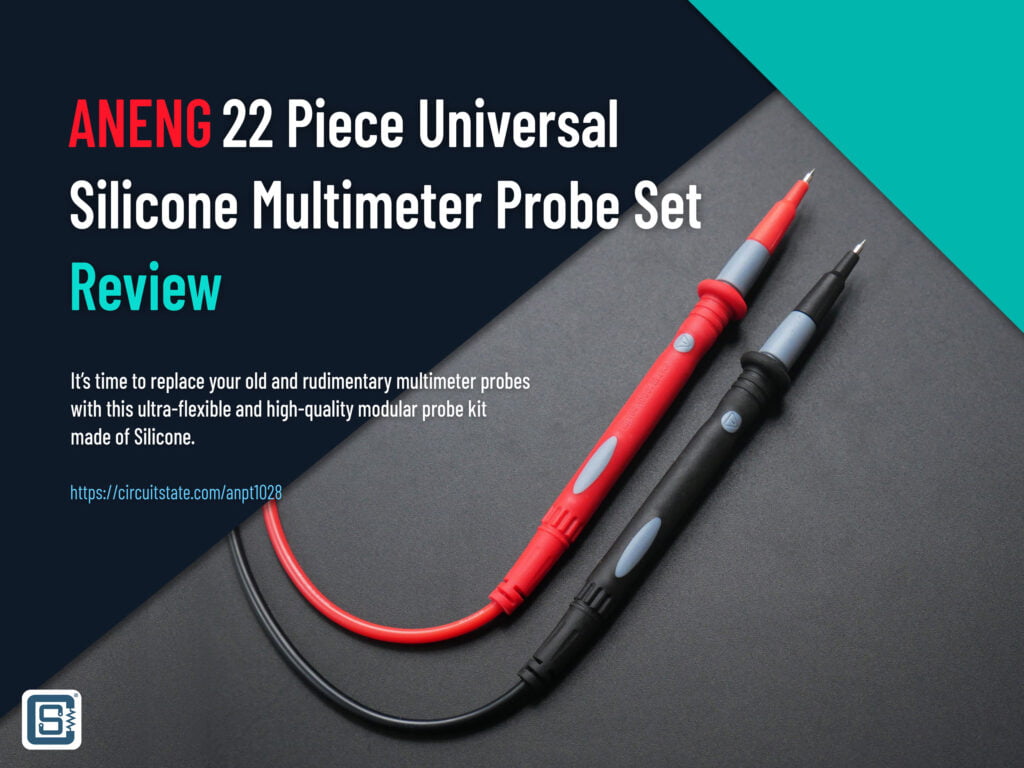 Silicone is a material you can easily call a Super Material due to its many useful characteristics. Good thermal insulation (low thermal conductivity), low chemical reactivity, high thermal stability, flexibility, and high electrical insulation are a few of the great properties of Silicone. When you understand how useful these properties are, you would want to replace every other plastic or rubber material with Silicone. You can find Silicone as adhesives, grease, gaskets, mats, tapes, handles, and whatnot. But if you are an electrical engineer, you will also find Silicone as part of many instruments and tools you will use every day. This is because when working with electrical and electronic equipment, it is best to have materials that can act as good electrical and thermal insulators. Silicone is just that material.
If you have a digital multimeter, it is unlikely that its probes are made of Silicone. This is because, even though Silicone is a good insulator and cheap material, not many manufacturers use it for making cables. I haven't seen any manufacturer use Silicone wires/cables in their products. That's why we bought the Aneng PT1028 22 Piece Universal Silicone Multimeter Cable & Probe Set recently and is in for a review today. It is a high-quality modular multimeter probe set from the Aneng family who also makes beautiful multimeters. We will share our experience with using the product and a few good snaps. We bought the probe set from DRK Store, in Kerala. Click the button below to check it out.
Features
22 Piece set (two cables and 20 accessories).
Made of mostly Silicone material that can withstand up to 200°C.
Highly flexible.
Lightweight.
Universal plug suitable for most digital multimeters.
Beautiful combinations of bright red, grey, and black colors.
High voltage and current rating.
Lower resistance compared to ordinary DMM cables.
Easy attaching of accessories.
High-quality needles, pins, and clips.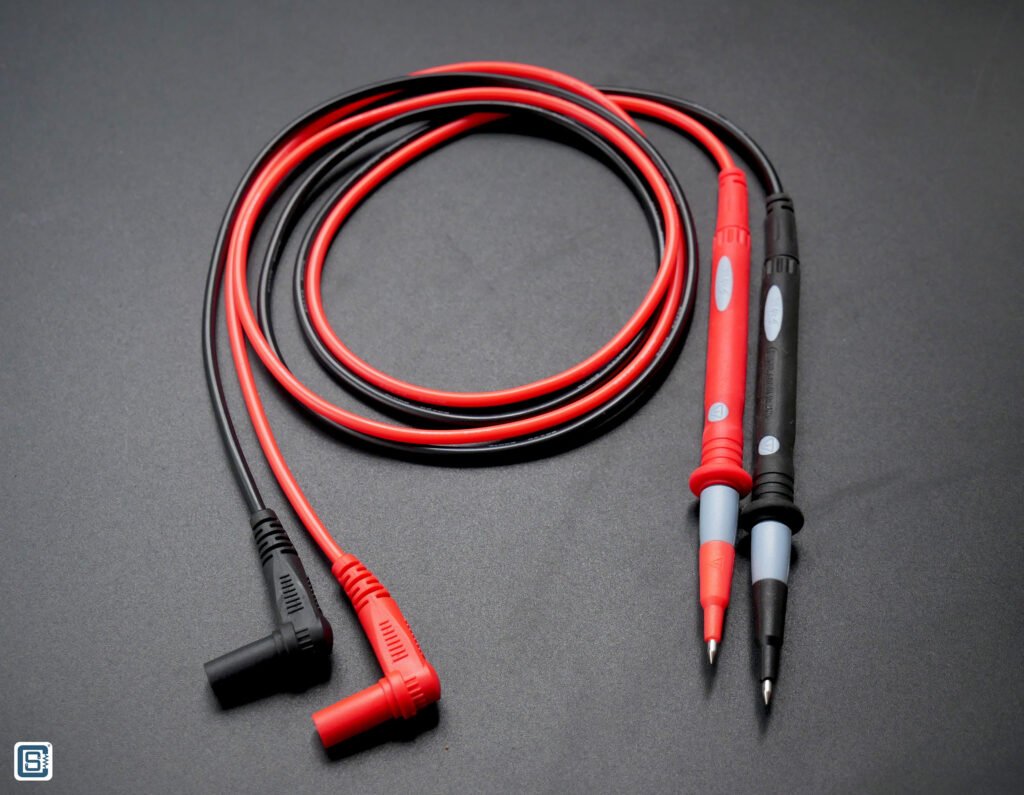 Specifications
Length: 102 cm
Materials Used: Silicone, Metal, and Plastic
Colors: Red and Black
Rating: CAT III 1000V 20A
Plug Diameter: Universal 8.2 mm
Accessories Count: 20
In The Package
2 × Multimeter test pens
2 × Extended Nickel-plated copper needles
2 × Nickel-plated copper needles
2 × Tapered/Countersunk needles
2 × Banana tips
2 × Banana plugs
2 × Insulated alligator clips
2 × U-shaped insert clips
2 × Insulated needles
4 × Brass-plated fine needles
Build Quality & Ergonomics
The first thing you would want to make sure of before buying the Aneng PT1028 is whether it is compatible with your existing meters. Thankfully, the Aneng P1028 has a universally compatible 8.2 mm plug size which mates perfectly with most digital multimeters out there. At least in our case, it is compatible with our Metravi and Mastech multimeters.
The Aneng PT1028 is made of high-quality Silicone and plastic materials from the great feel in the hands when you hold it. You can straight away tell it is much better than the cables your DMMs came with. Since Silicone is lighter than other types of plastic, you will feel the difference in weight. The Aneng PT1028 is much lighter than ordinary cables. Less weight added with the high flexibility of Silicone means, you will never feel the cables bogging down when you try to probe something.
Speaking of probing, your ordinary multimeter cable is never sufficient or fit for all types of applications. You can say goodbye to the days when you use the same conical pins for probing everything. The Aneng PT1028 comes with 20 pieces of accessories that can be easily attached to the pens. Just choose your probe type and fasten it to the pen.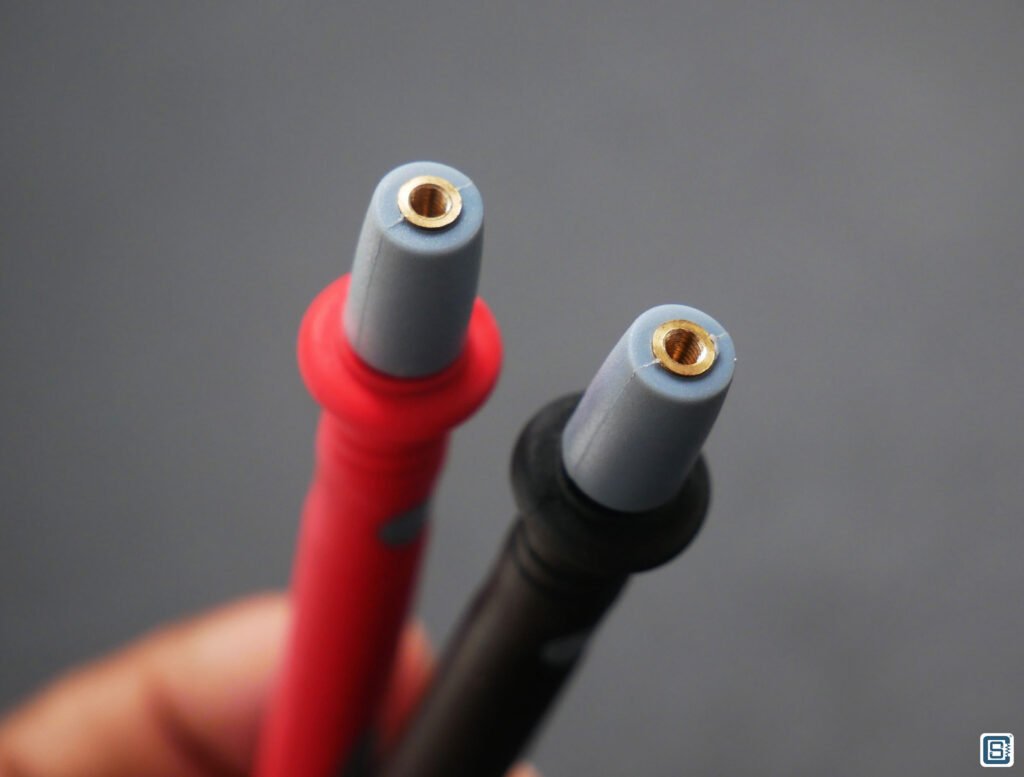 The accessories are also made of good quality materials and are well-finished. The metal parts are coated with either Nickel, Copper, or Brass for the best performance. But since the packaging is not that good, it is possible that the sharp tips of some of the pins might come bent. This happened with a few items we received. But it is fixable as long as it is not broken.
The banana plugs allow you to connect to a variety of other connectors such as your benchtop power supply. The tapered or countersunk pin is extremely useful when you want to check any boards with through-hole components. As you already may know, it is really hard to keep the conical pins touched on the soldered through-hole leads. The long and sharp needles allow probing fine-pitched parts such as SMDs. We also must warn that a few of the pins are extremely sharp and you can hurt yourself with them. So we suggest keeping all the probes/accessories in a small plastic box. We wish the sharp pins came with their own plastic protection caps.
Since the cables are made of Silicone, you don't have to worry about accidentally melting them with your soldering iron. Silicone can withstand temperatures in the range of 200°C.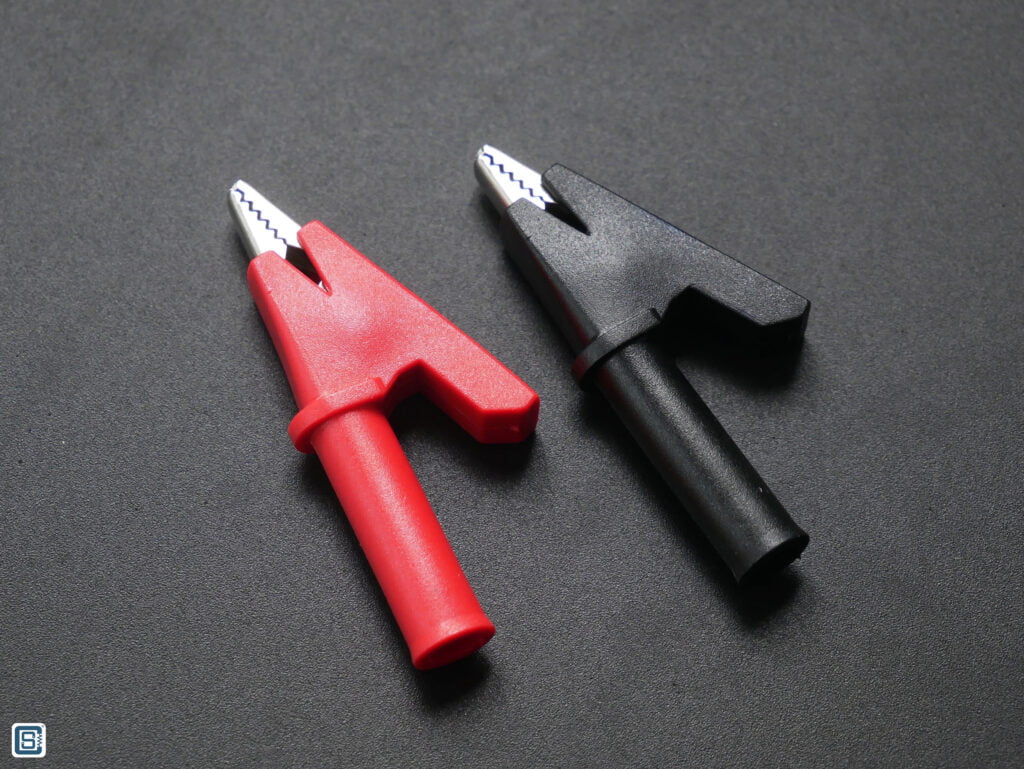 Verdict
Aneng PT1028 is one of the best multimeter probes on the market. This is not the only product from Aneng though. They have similar multimeter probes, multimeters, clamp meters, and soldering products in their product lineup. We bought the Aneng PT1028 from DRK Store which recently brought the dealership of Aneng to Kerala, India. That means you can buy the Aneng PT1028 and other Aneng products from DRK Store for the best prices in India. Similar products on Amazon and other places are unreasonably priced and you can never be sure about their quality. So we highly recommend buying Aneng products from DRK Store. They also have other high-quality products listed on their beautiful website. Do check them out.
If you are a serious engineer and already understand the limitations of your existing multimeter probes, then you should consider buying the Aneng PT1028 without a second thought. Hope you will find our suggestions useful.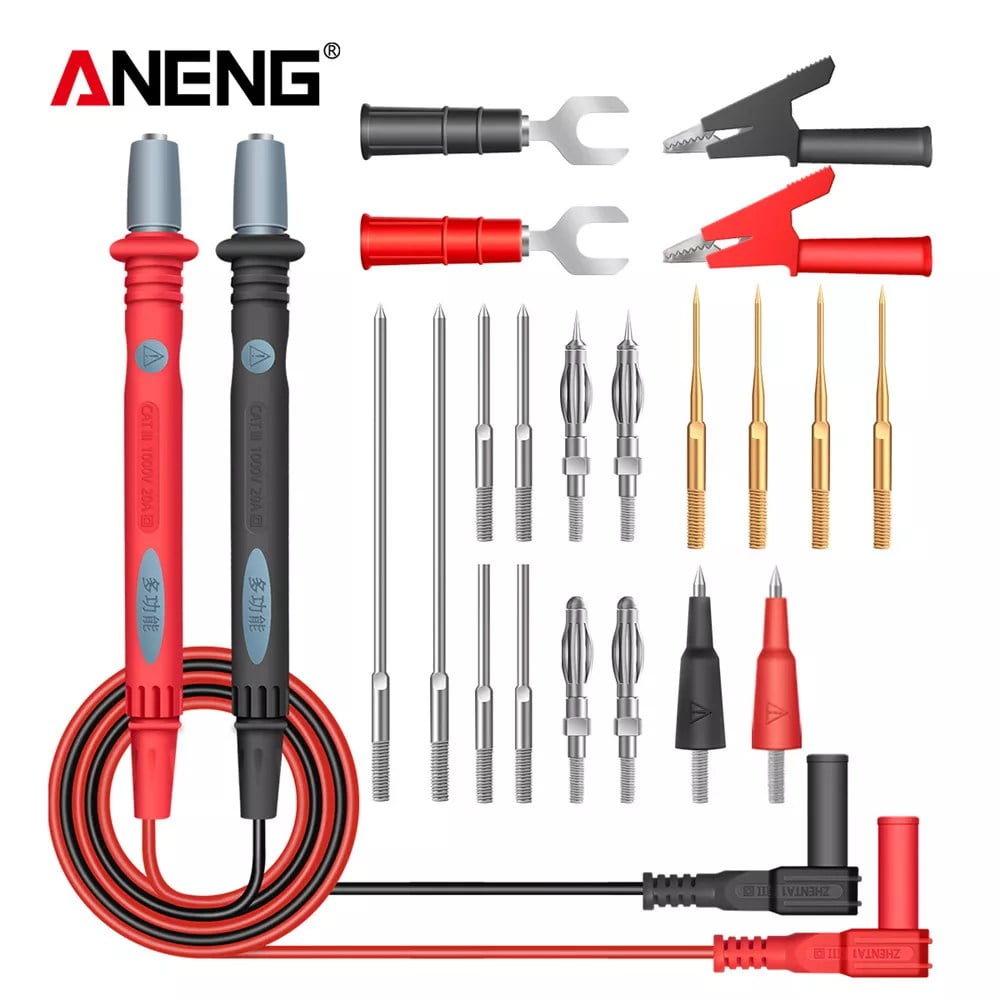 Links
Short Link