Raspberry Pi RP2040 Microcontroller Single Unit Chips are Now Available for $1
Raspberry Pi RP2040 microcontroller single-unit chips are now available for as low as $1. Buy them before the stock runs out.
Raspberry Pi Foundation has announced a limited availability of their first microcontroller chip RP2040 in single unit quantities. A single chip costs around $1 and is available from a few reputed global sellers. The RP2040 is Raspberry Pi's in-house designed microcontroller with many nifty features. The first RP2040 based microcontroller board, the Raspberry Pi Pico was released in January this year at a price of $4. Everyone was eagerly waiting to get bare chips ever since.
The chip is available in the below listed sellers, though they might have gone out of stock by this time. You can buy the chip as a 13″ reel of 3400 pieces, 7″ reel of 500 pieces or as cut-tape quantities.
RS Components – https://uk.rs-online.com/web/p/microcontrollers/2211610/
Cytron Marketplace – https://www.cytron.io/p-raspberry-pi-rp2040-dual-core-microcontroller
In India, the chip is available from the following official distributors.
Silverline Electronics – https://www.silverlineelectronics.in/raspberry-pi-rp2040-mcu-india-approved-reseller.html
The supply of chips will limited to 40,000 units as of now, according to Raspberry Pi. These were actually meant for the production of Pico boards, and they decided to make the chip available three months before the schedule. RPi also has hinted that more volume will be available soon around Q3 of this year. They are hoping this move will accelerate the adoption of the new microcontroller for new designs.
Buying Flash Memory Chip
Something you will also need when buying the RP2040 chip is the Flash memory to store your programs. This is because the RP2040 has no integrated flash memory. Instead, an off-chip SPI Flash memory has to be interfaced to the MCU. The official Pico board uses Winbond W25Q16JVUXIQ 16Mbit (2MB) flash chip. Flash chip memories are available in different capacities and speeds. Which one to use in your design depends on your application requirements. RP2040 supports up to 16MB external flash. Keep in mind the difference between Mbit and MB (MB = Mbit/8). The official RP2040 hardware design guidelines document recommends W25Q128JVS which is a 128Mbit or 16MB NOR flash chip with a maximum operating frequency of 133MHz.
The Winbond FV series are slower than JV series. FV runs at 104MHz and JV runs at 133MHz. The Pico is clocked at 133MHz and therefore it is better to use the JV series chips. Links to buy the flash chips are listed below.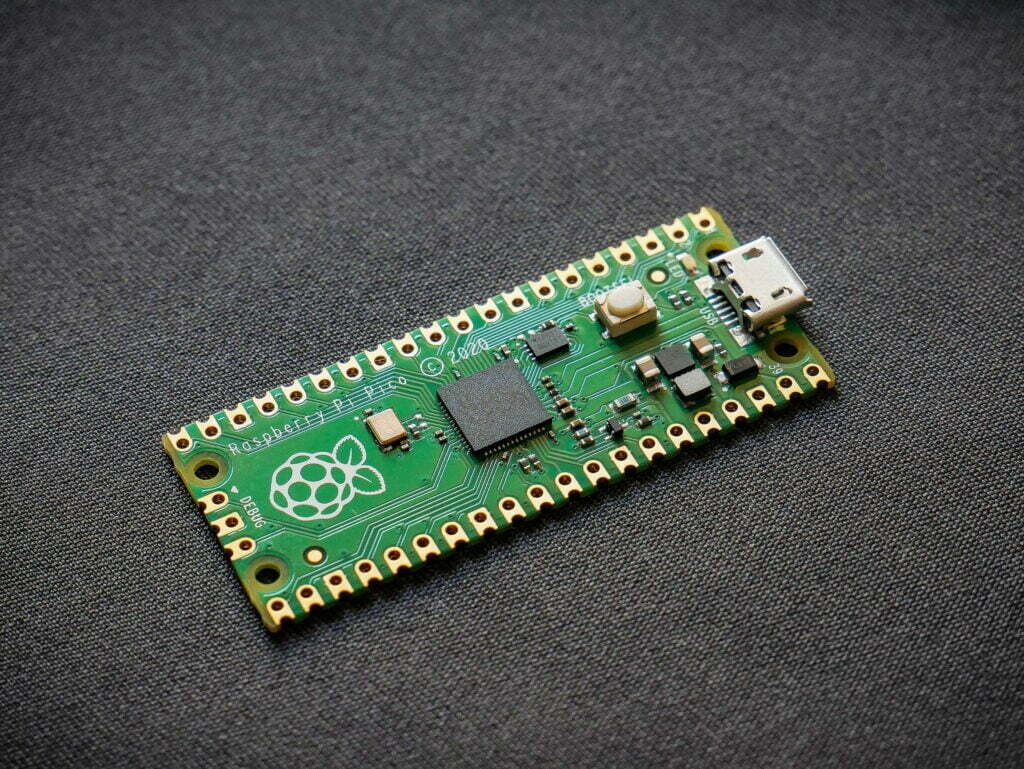 Learn more about the specifications and features of RP2040 and Pico board on our previous post. We will be also publishing a getting started tutorial soon. Stay tuned.
Links
Buy Pico RP2040 (India)
Short Link